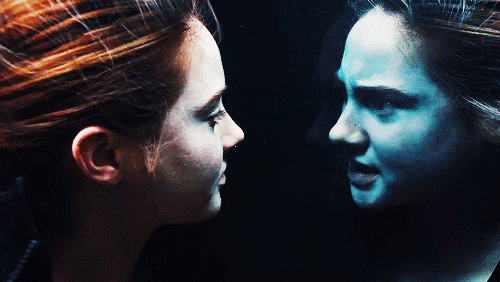 Rose stood at the window watching mist rise from the valley beneath the Briar Wood. Behind her, the gray-blue light of dawn gleamed off the mirror at the foot of her bed. The bone sewing needle resting on top, both uncharacteristically bloodless.
            "The sun is nearly risen," Rose said, pressing the tips of bruised fingers against dirty glass. Grandfather left them that way to prevent Rose from accidentally catching sight of her reflection should she wake before the spell was fixed again. She should fix the spell now. It was dangerous to stand so close to reflective surfaces at this hour.
            But somewhere within the Briar Wood was the pond that had claimed her mother's life. Grandfather had his reasons for keeping Rose away, but Grandfather was gone.
            Rose dragged her fingers across the pane leaving four clear tracks in the grime. She brought her face perilously close to them and whispered, "Wake up, Rose."
- - -
            "Wake up, Rose," Grandfather said. "The sun is nearly risen."
            He sat next to his granddaughter's bed, a mirror in his lap and a sewing needle pressed between his fingertips. Glass and bone caught the blue-gray light of dawn and drew longing and dread from Rose like breath.
            Grandfather extended a hand and when Rose hesitated raised his heavy eyebrows dispassionately. Rose folded her frustration away and gave over her hand. With practiced movements, Grandfather selected her index finger, still pink and healing from the last time, and stuck it with the bone needle. The sting was too familiar a thing for tears.
            Blood chased the needle, rising from her fingertip like the sun. When the drop was full, Grandfather guided her hand over the mirror and with a small shake, her blood fell against the glass.
            Rose knew she shouldn't, but still she hoped her Grandfather would tip the mirror just enough that she might catch a glimpse of herself – the curve of her chin, the folds of her ear, or perhaps the line of her hair against her forehead, any bit of her would satisfy. But Grandfather was too deft. He swept the mirror away and immediately crouched near the fireplace. His knees creaked as much as the old wooden floor, but he insisted she was too young, too reckless to perform this task on her own. Rose watched as he smeared the drop of her blood across the glass then smashed the mirror to pieces.
            For just a moment, the pieces of shattered glass clouded to full black. Then they cleared to reflect the glowing embers of last night's fire and the stray pinks and golds of dawn.
            But no matter how Rose turned them, they would not reveal her face. No surface in the house would. Not now that the spell was sealed for another day. Tomorrow they would do it all again.
            It was the only way they knew to contain her curse.
- - -
            She turned to the bed where the needle and mirror sat. Her fingertips ached at the sight.
            No more spells, she thought and with that she snapped the needle in two and shattered the mirror into the fireplace. Each piece reflected the soft glow of embers, winking against the floor like cat eyes.
- - -
            When Rose was old enough to understand notions as complex as curses and beauty and revenge, Grandfather explained that she had inherited her curse from her mother, who had refused one too many men. As punishment for causing so much heartbreak, a curse was given to her such that should she ever catch sight of herself she would fall deeply in love with her own reflection.
            "But why should that be a curse?" Rose would ask. "Why shouldn't she love herself?"
            "Because," Grandfather explained, "it is better to give more love than you receive, and loving yourself is the most selfish thing a person can do."
            For one wicked moment, Rose thought she would like to be selfish long enough to discover the color of her eyes.
            Grandfather continued to explain in his measured way, always on the brink of betraying something more of himself in the cadence of his voice. He spoke of how her mother had stopped for a drink by the pond at the edge of the Briar Wood and how there she caught her reflection and feel instantly in love.
            "So she fell in love with the one person who was incapable of loving anything but herself. It was a just punishment." Here Grandfather's eyes seemed to lose the thread of Rose and see only the wrongs of her mother.
            "It seems cruel," Rose spoke, searching for some sign of her Grandfather's compassion.
            "Cruel is what she did after. Cruel is taking up with a man you know you will never love. Cruel is letting him hope," he finished with bitterness.
            "That's how I came to be," Rose said, her gaze settling on a portrait of her mother and father. They both looked haunted and hollow; her mother by a love she could never satisfy and her father by the love he'd never had to begin with.
            They were not beautiful, Rose knew that, but she could see the places beauty had once lived in both of them and wondered if there were such places in herself.
            "That is how you came to suffer under the same weight," Grandfather said, keeping his gaze away from the portrait. "And why you must never leave this place."
- - -
            With haste, Rose slid into her boots, unbound her hair, and raced across the valley toward the Briar Wood. The air was sharp and cool and her heart beat hot inside her chest. All her life she'd lived under the promise of danger, but now she was racing toward it.
            And it felt good.
- - -
            The cottage was big enough for two, but with each passing day, it seemed to shrink and Rose spent more and more of her time in the fields. So long as she didn't stray as far as the Briar Wood, Grandfather didn't object. There was a part of her that wished he would. It would feel good to have something to struggle against that wasn't as amorphous as her curse.
            Rose wandered with the wind, seeking reflections of herself in the world around her. This time of year, her skin was a shade darker than autumn grasses, her hair something lighter than rain-soaked earth, the tip of her nose rounded like an acorn. In the spring, she'd find herself in other ways. In the straw of a bird's nest or the shape of oak leaves.
            It was a quiet, secluded valley, welcoming few strangers but those delivering what little Rose and Grandfather required to live. No news from the world beyond the wood ever reached Rose's ears, but though she didn't know much of the nearest villages and towns, they knew of the cursed girl who lived in the valley of the Briar Wood. And around the time of her sixteenth birthday, they began to seek her out: young men eager to dispel the curse and win her hand and favor.
            This is how Rose learned that it was not her beauty but her curse that made her an object of desire.
            One after another, the young men came and it was always the same.
            "Sweet, resplendent Rose," they would say, one hand pressed to their hearts, the other gripping a sword or bow or dagger. "I have come to rescue you from this curse and marry you."
            At first, Rose would give them a smile, but over time she discovered her smiles became weary.  "There is no need to break the curse," she would tell them. "I manage it quite well. It's easier than you might think."
            And here their bravado would falter. "But a curse should be defeated. Broken."
            And she would answer, "And if I would like to keep my curse? It was a gift from my mother, of course. Would you marry me with my curse?"
            The answer was always no.
            Until the day a woman appeared at the edge of the Briar Wood. She was tall and weathered with silk-thin wrinkles around her dark eyes and hair like storm clouds. She wore leather armor over strong arms and carried a sack over her shoulder so Rose nearly dismissed her as a merchant, but the woman came directly to her and smiled.
            "You are Rose of the Briar Wood," she said and there was a gentleness to her voice went to the very heart of Rose.
            "Who are you?" Rose asked.
            "A friend," replied the woman. "I hope."
            "Are you a witch? Have – have you come to dispel my curse?" Rose asked. It had never occurred to her that a woman might try, but perhaps she had been foolish in her assumptions. Grandfather was a wealthy man. He had much more to offer than her hand in marriage.
            But the woman only shook her head and with her smile still on her face, she asked, "How do you know you are cursed?"
- - -
            She didn't hesitate when she reached the edge of the valley. She ran as though her feet knew where to land and where to run. Trees towered above her, birds called from every direction, and the briars for which the wood was named sprawled across the forest floor. Everything around her seemed to cry out for more – more sunlight, more song, more space.
            Rose wanted more. She wanted more than her cottage, more than her needles, more than her curse. 
- - -
            "Wake up, Rose," Grandfather said. "The sun is nearly risen."
            He sat by her bed with mirror and needle, grayer now than he'd been the day before. How many times had they done this? How much of his life had he spent safeguarding the world for her? Questions filled her mind like dandelion seed.
            "Grandfather," Rose said before offering her hand. "How do you know mother passed the curse to me?"
            Grandfather sat back as though she'd pricked him with a needle. "It isn't a question worth asking if the answer might destroy you."
            "But Grandfather," she pressed, knowing it was the question and not the answer that would eventually grind her into dust.
            "It isn't worth asking," he repeated and this time his fingers tightened on the mirror until Rose heard a small crack.
            But Rose was not afraid. She said, "Grandfather, I am old enough now to manage this on my own. Give me the needle."
            Beneath his beard, there was an emotion that caused his jaw to clench. Grief or pride or something else that looked like reluctance and submission all at once. He nodded and passed the needle to her small fingers so that she might fix the spell on her own.
            The next morning, Grandfather didn't appear by her bed at dawn. There was only the mirror and needle. Rose pricked her own finger and smashed the mirror into the fireplace all without letting her eyes betray her by seeking a reflection. After, she joined Grandfather at the breakfast table for eggs and bitter tea. It went this way for many mornings until one day, Grandfather did not come for his eggs.
            Rose found him still in bed, his chest unmoving beneath the tangle of his beard.
            "Grandfather," she said, and her tears warmed her cheeks and chilled her heart. "Now, I am alone. Who will I love now if not you?"
            But Grandfather had no more answers for her questions and for a moment Rose was wicked and thought her Grandfather a very selfish man for taking so much with him.
- - -
            The pond lay in the lee of the wood, surrounded by white and yellow daffodils. It was still and clear and inviting.
            Rose drew a deep breath. Here were the question and answer laid out before her. With another breath, Rose stepped into the sunlight and leaned over the flat pool.
            It took a moment for her eyes to recognize the shape of her face, but once they did, she couldn't fathom looking away. She was beautiful. She knew this not because of her Grandfather's fear, her suitor's desperation, or her parents' heartbreak, but because the girl in the pond smiled up at her.
            "You are not a curse," she said, her lips hovering just above the water.
            The girl in the pond had eyes as grey as the dawn and lips as ruddy as cardinal feathers, she had round cheeks and a long nose, but it was the way she smiled that captivated Rose.
            "And neither are you," the girl in the water said.
            "I love you," they said together.
            And then Rose dipped her head and pressed her lips to the girl in the water.